Presentation of the Nail Varnish Spray
Nowadays in the already developed nail care industry, we are facing a tons of offers from different nail supply stores which innovate in order to make simpler and faster our daily routine. If you are looking for an ultra-fast varnish to apply, with a zero-defect result, look no further: spray varnish is what you need! This kind of  product was first launched in 2015 by the British brand Nails Inc.
1 – How to use the Nail Varnish Spray?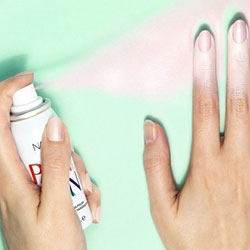 First, place your hand flat on a protected surface (with paper, a cloth, etc.), to avoid soiling your furniture or your clothes.
Then apply a transparent base. Even if the application of the spray varnish is quick, this step is essential.
Shake the can of spray varnish, prime the aerosol, and spray the nail polish from a distance of six inches for 20 seconds. You don't need a second coat, because the spray varnish provides coverage. However, you can apply a layer of top coat to help it hold better. It's almost over already! Once the varnish has dried (very quickly), all you have to do is clean any stains on your hands with warm water and soap. So stunning!
What if we want to remove the spray varnish? Apply a cotton ball soaked in solvent, as for a classic varnish.
As you can see, spray varnish puts an end to the overflow of the brush of a classic varnish, and its interminable drying time. Why be in doubt? Test it out!
2 – The advantages and disadvantages of spray varnish
A – THE ADVANTAGES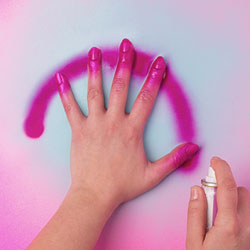 -Easy and quick application product,
-Manicure with a neat finish: thanks to cleaning with soap and water, no more unsightly stains,Séchage immédiat : séchage ultra-rapide, pas besoin de lampes UV,
-Good hold: with a top coat, hold similar to classic varnish,
-Not toxic,
-No smell
-Affordable price.
B – DISADVANTAGES
-The color palette is limited,
-When rinsing the fingers, the spray varnish can be stubborn on the cuticles,
-Not widely available on the market.
Read also: Hardening varnish: how to apply it on your nails?
Source: